Fraud Spree Hits Texas Town
200+ Incidents of Card Fraud Reported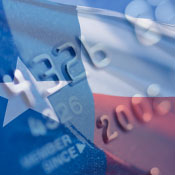 Another rural town in Texas has been caught up in the ongoing payment card crime spree that's striking restaurants and retailers nationwide.

Police in Sanger, Texas, say hackers stole credit and debit card information from at least 200 Sanger area residents. Reports of fraudulent charges are occurring all over the United States, says Sanger police Detective Jonathan Perkins. Sanger is 50 miles northwest of Dallas.

The source of the stolen card data is a compromised server that stored information transmitted to payment processors for credit cards at an unidentified Sanger business. The stolen credit card account numbers were likely sold to criminals who created counterfeit or "cloned" cards, Perkins says.

Fraud reports began appearing July 20. They involve eight to 10 area banks, and about 200 instances have been reported so far.

The Denton County Sheriff's Office in Texas also has received reports from residents who have been caught up in the massive fraud. According to sheriff's reports, one man said his Texas Work Commission debit card was used at a store in Arizona, and a woman reported that her card was used in North Carolina.

The criminals who perpetrated the card data theft weren't local residents, Perkins says. "At this time we don't believe local people are involved in the crime," he says. "We've turned over information to the Secret Service and are working with them on the case."

The Texas incidents are similar to a series of similar crimes that have sprung up in communities across the U.S. Law enforcement officials - including the U.S. Secret Service - will not speak on the record about these cases, but confirm that they are conducting a multi-state, multi-country investigation into this string of crimes.

This recent spree shows that payment card data theft remains hot, says Anton Chuvakin, a noted payment card security expert. "It will likely stay hot for the foreseeable future," Chuvakin says. "It's easier and more lucrative for the criminals to steal card data than other types of data."